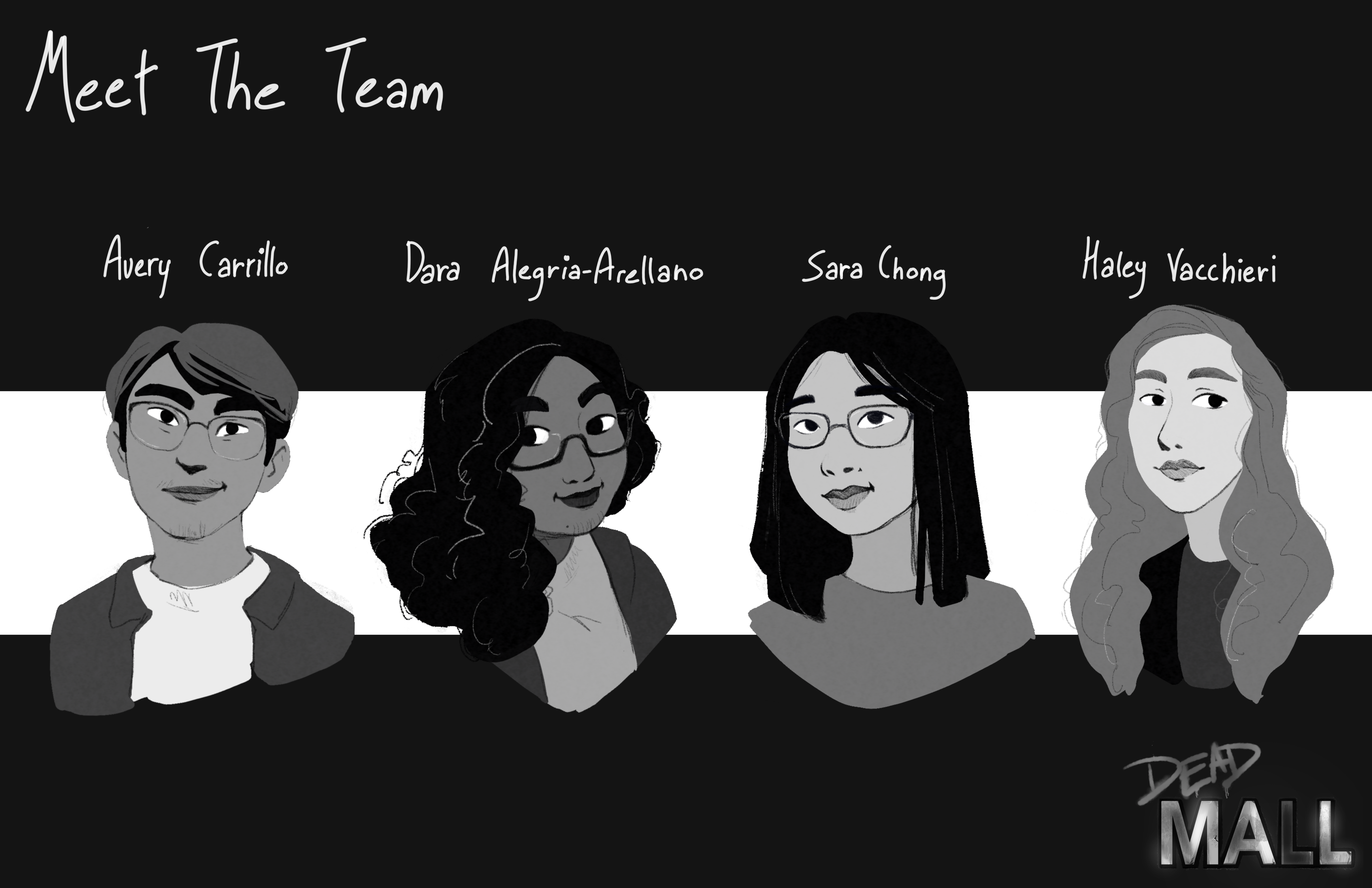 Avery Carrillo – Director, Writer, Story Artist
Avery is a visual development artist and the creator of Dead Mall. He has been a fan of the horror genre since he was a kid, with a copy of Scary Stories to Tell In the Dark always at his bedside, and to this day he is constantly consuming any type of horror media he can get his hands on, from podcasts to videogames. Avery decided he wanted to create Dead Mall, not only because he's a fan of scary comics, but also because he wanted to see more stories with queer people front-and-center, where their queerness isn't a source of conflict or a plot point, but a part of who they are.
---
Dara Alegria-Arellano – Producer, Writer, Story Artist
Dara is a story artist with a deep passion for science fiction (primarily time travel) and the supernatural. They have been drawing comics and the like since they were a kid from video game fan-comics to original comics and is now using their past experiences to help make Dead Mall! They joined Dead Mall because of their love for making and reading comics, and because they really liked the concept of a benevolent, space-warping mall that follows fae-like rules rather than using standard ghosts.
---
Sara Chong – Visual Development, Background Artist
Sara is a visual development artist whose favorite thing is fantastical settings with a lived-in feeling. As a child she constructed tiny cities out of the objects on her desk, but ended up turning more to drawing because it produced fewer cobwebs. She joined Dead Mall because she was intrigued by the concept of the mysterious, space-warping mall.
---
Haley Vacchieri – Visual Development, Character Artist
Haley is a visual development student and also the main character designer/character artist on the Dead Mall team. They love many things including drawing, playing instruments, their dog… and also the horror genre! They consider themself a bit of a horror story nut (they can't get enough of the stuff) so they joined this project because of its generally spooky nature and wanted to contribute to something creepy as it aligned closely with their current interests! Also, the concept of a living mall enchanted their horror-loving self and they haven't looked back since!
---
---
SJSU Animation and Illustration Program
in association with the ShrunkendHeadMan Club
Thesis Advisor – David Yee